Quarantine Photography in Yangshuo, China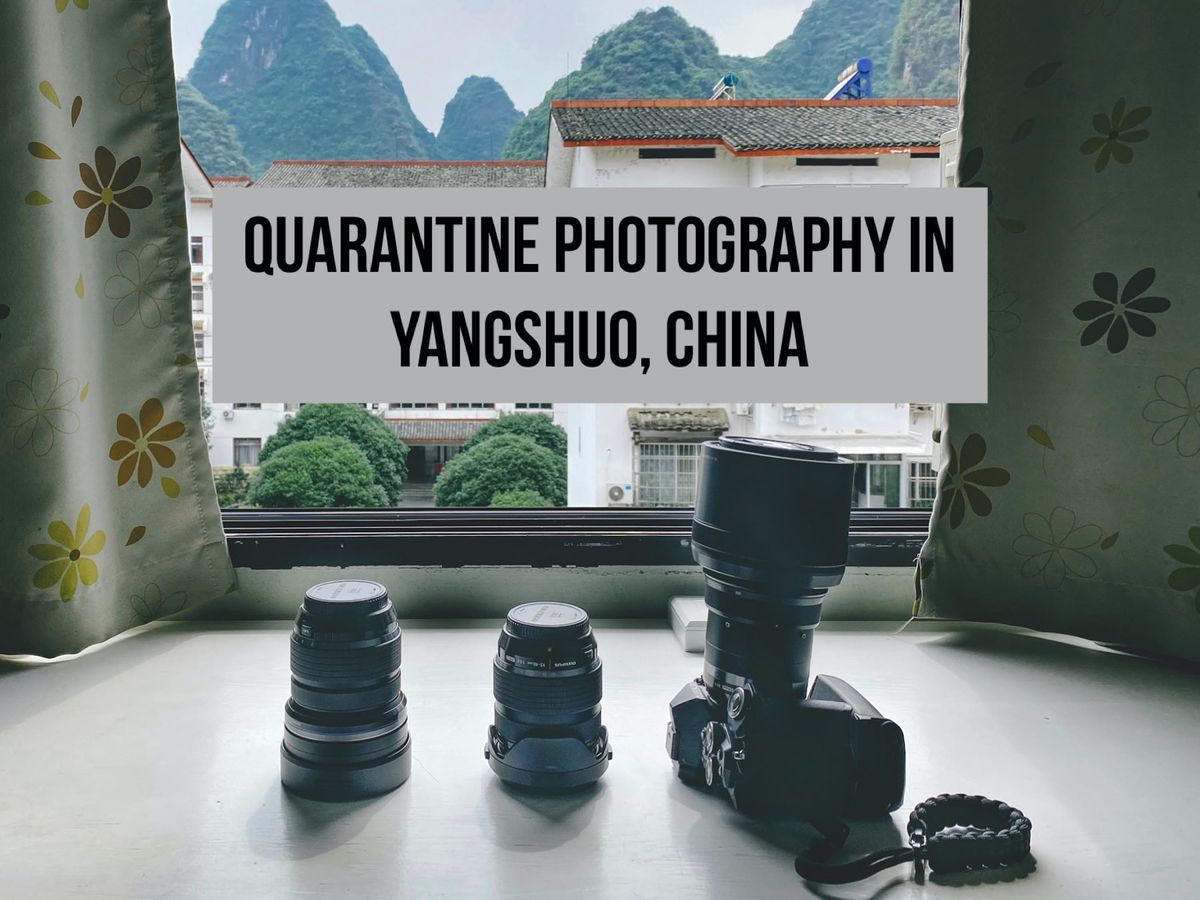 So, I just moved to Yangshuo, China! It will probably only be a temporary move for a couple of months or so, but I'm excited to be here.
I've lived and worked in Beijing since January 2018, but my work contract recently ended. Before I started looking for a new job, I figured I would take advantage of this free time and do two things that I've wanted to do for a while: Take some full-time Chinese classes, and visit the Guangxi Province area of China.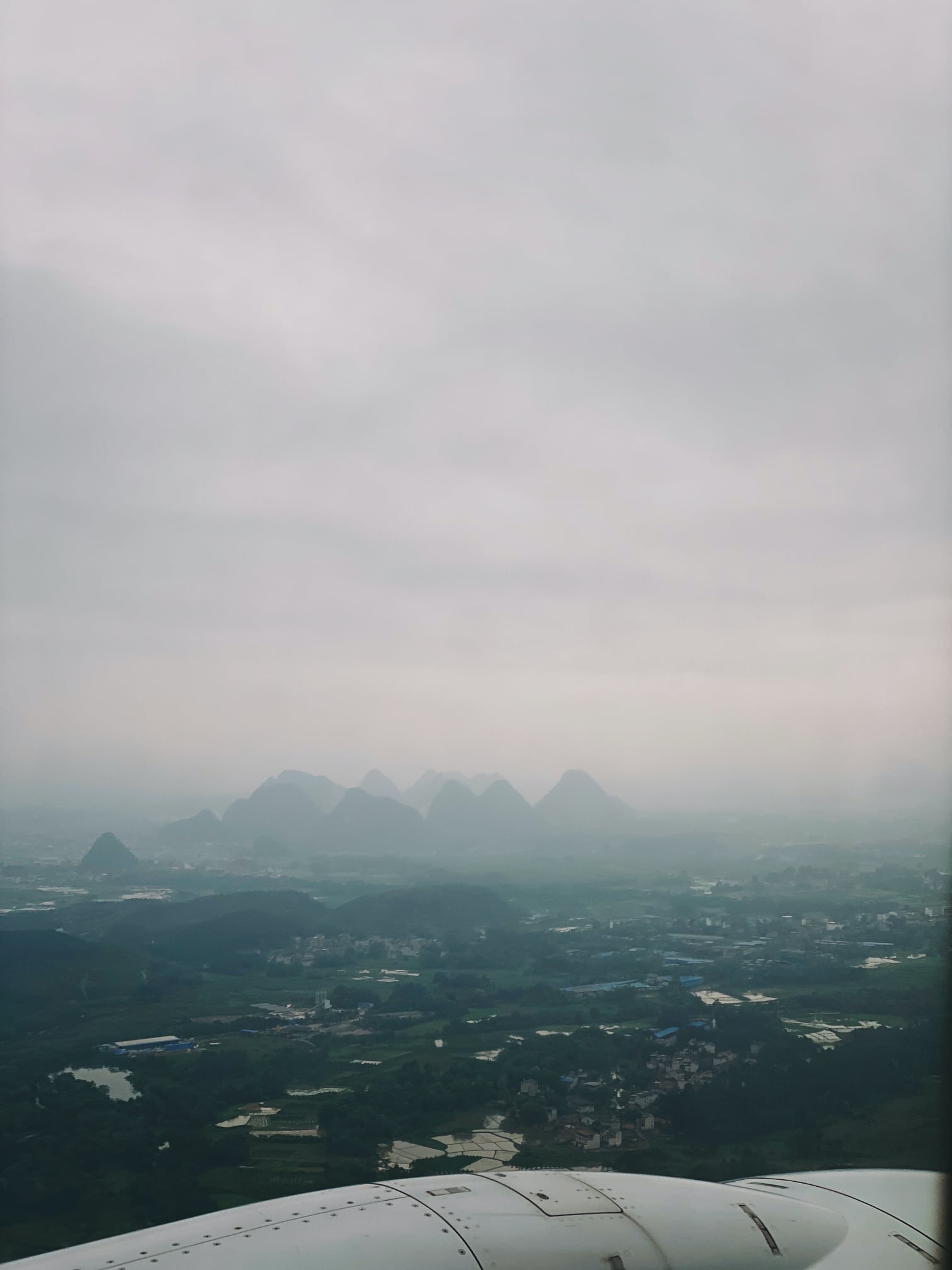 Quarantine Week
My first week in Yangshuo was spent in quarantine. Thankfully I had a beautiful view to look at every day, so it wasn't too bad at all.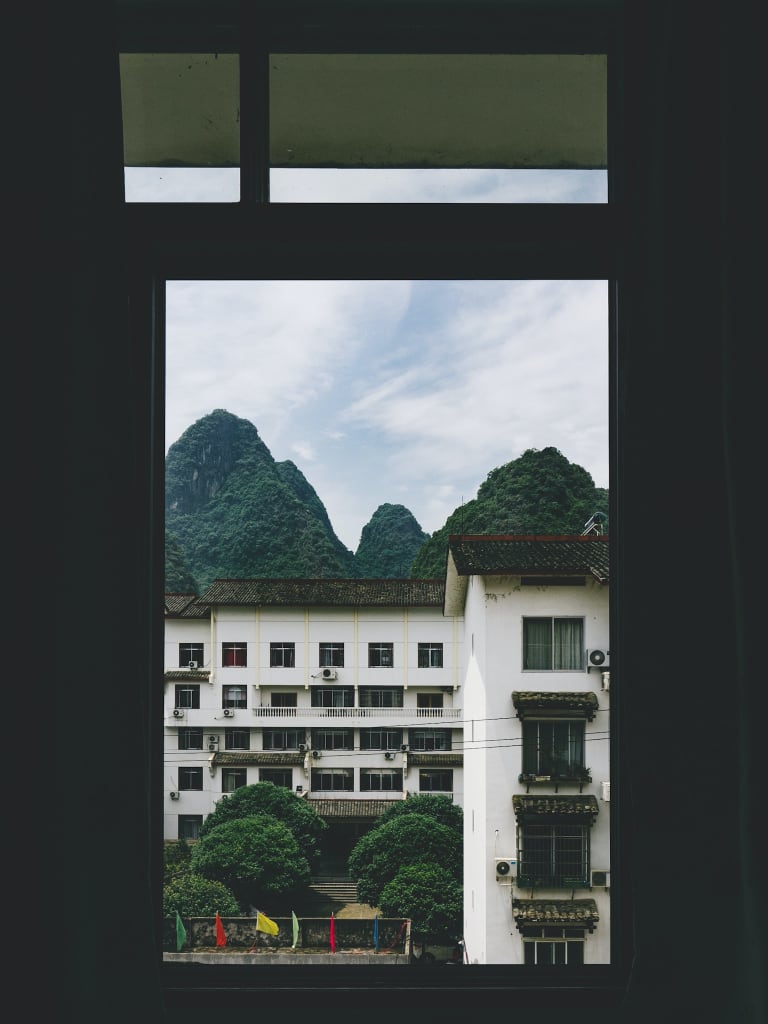 But I didn't want to just stare out the window all day and night, so I decided to come up with a little photography project for myself. To see what sort of photos I could come up with while just looking from one vantage point for one week.
It was definitely a challenge for me. With photography I usually prefer to walk around, look at different angles and perspectives. Having to stay in one spot was new for me.
The other thing I struggled with was being self-conscious about taking photos from a hotel window. I could see below me and into windows across the street from me, and I felt a bit awkward taking photos.
As the week went on I got more comfortable with it though. My technique was to be very obvious when I was taking photos, like literally hanging out my window at times. I figure this way people would see that I wasn't trying to do anything secretive. Still not sure if that was the best approach or not, but it seemed to work for me!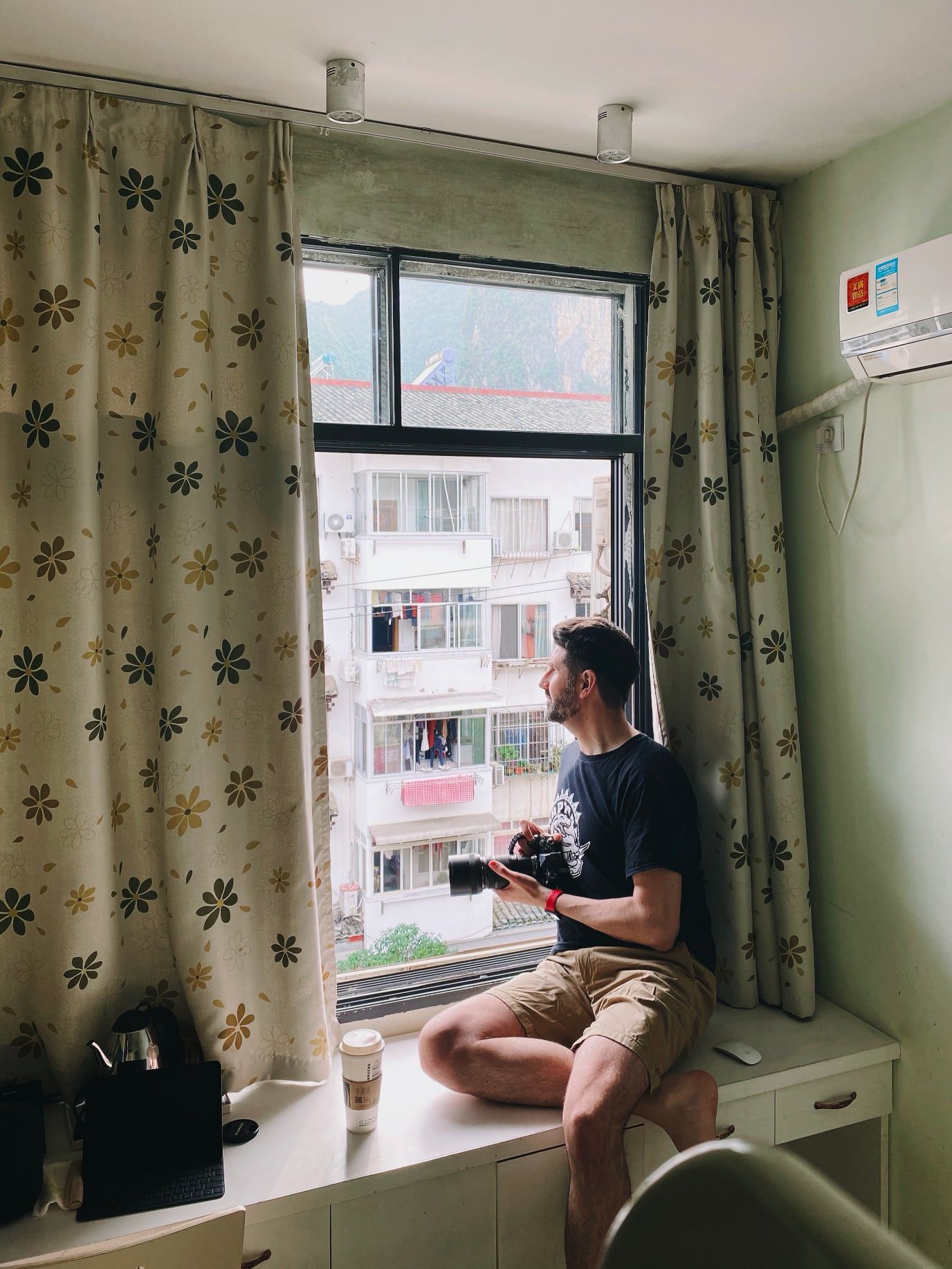 The week went by very quickly, I couldn't believe it. I was almost hoping for a few more days 🙂 And I am happy with the photos I got, I think it's a good variety.
Goals For Yangshuo
As I mentioned above, I had two main reasons for wanting to come here to Yangshuo.
Firstly, I really want to give my Mandarin a boost, so I booked eight weeks of full-time Chinese classes at a local school here. I'm almost at HSK 3 level, but my speaking and listening skills definitely need lots of improvement!
I have mostly done Mandarin self-study, I and prefer reading. But I want to get out of my comfort zone and start speaking more. Over the eight weeks I will have plenty of opportunities to practice.
Secondly, this area of China has been on my list to visit since soon after I arrived in China. I have been to many places in China, but for the most part they have been mid to large-sized cities.
This will be my first time experiencing a smaller city, and an area known for its natural beauty. Many people say that this is the most beautiful area of China. I already have so many places on my must-see list here! TV Tower, Moon Hill, and Xianggong Mountain, just to name a few.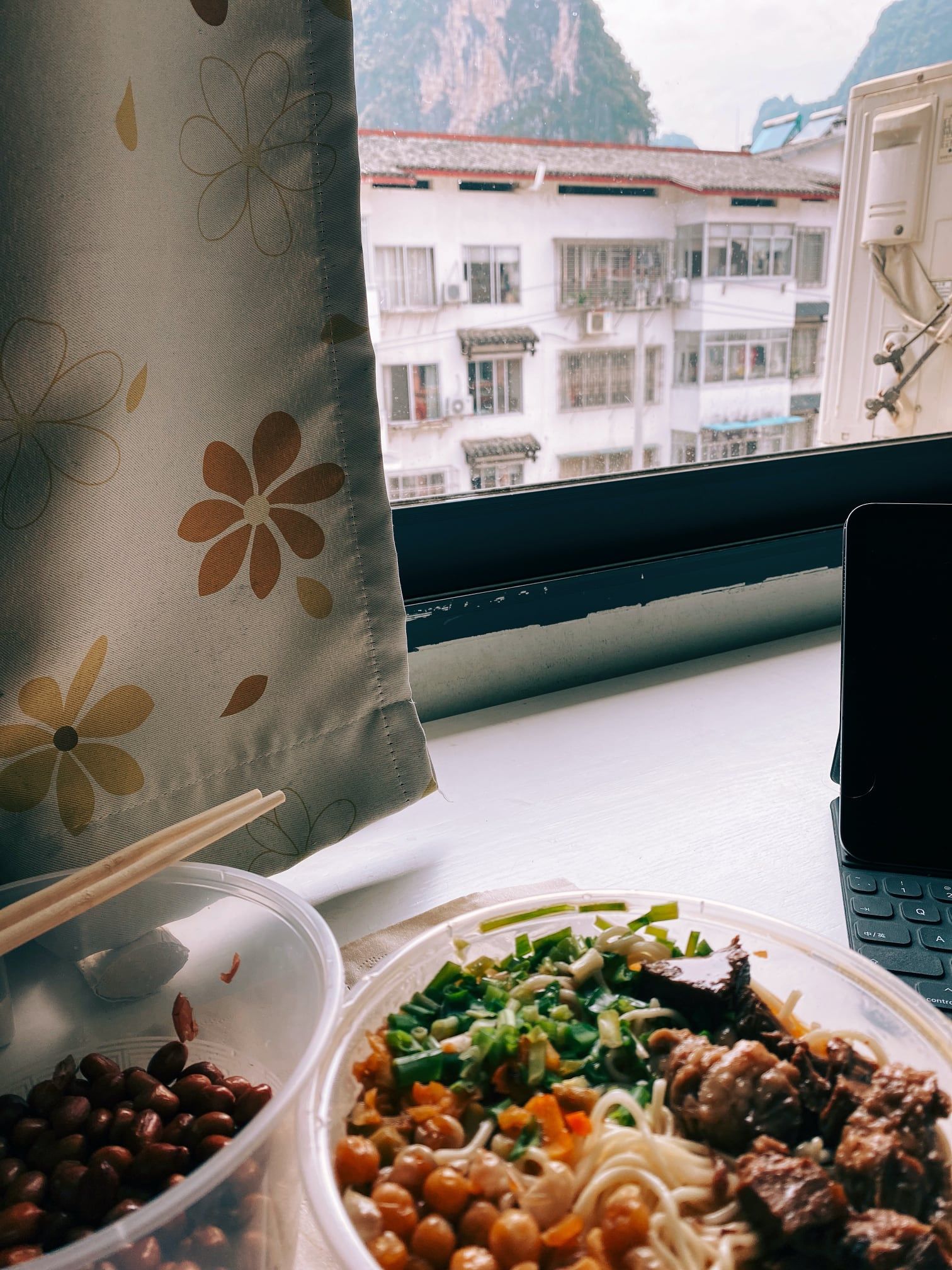 In terms of photography, it will be nice to have a chance to use my Olympus gear again. It has been many months since I travelled anywhere with all my gear. In the last few months I haven't even had it, as some of it was locked away in my former office. Thankfully the office recently reopened, so I was able to get it back before coming here.
But being without my Olympus camera gave me a great opportunity to use my iPhone camera. As I mentioned in my last blog post, using this camera more is one of my photography goals for the year. Being here will definitely give me the chance to put the phone camera to good use!
The Quarantine Week
For my little photography project, I thought of a few ways I could get different types of shots.
Shoot Using Different Lenses/Focal Lengths
I spent time using each of my three PRO Olympus lenses. I didn't use my prime lenses at all during the week.
7-14mm
This is my favourite lens and the one I am most comfortable using. But being such a wide-angle lens, and not being able to walk around to find interesting angles, I found it difficult to really use it very much.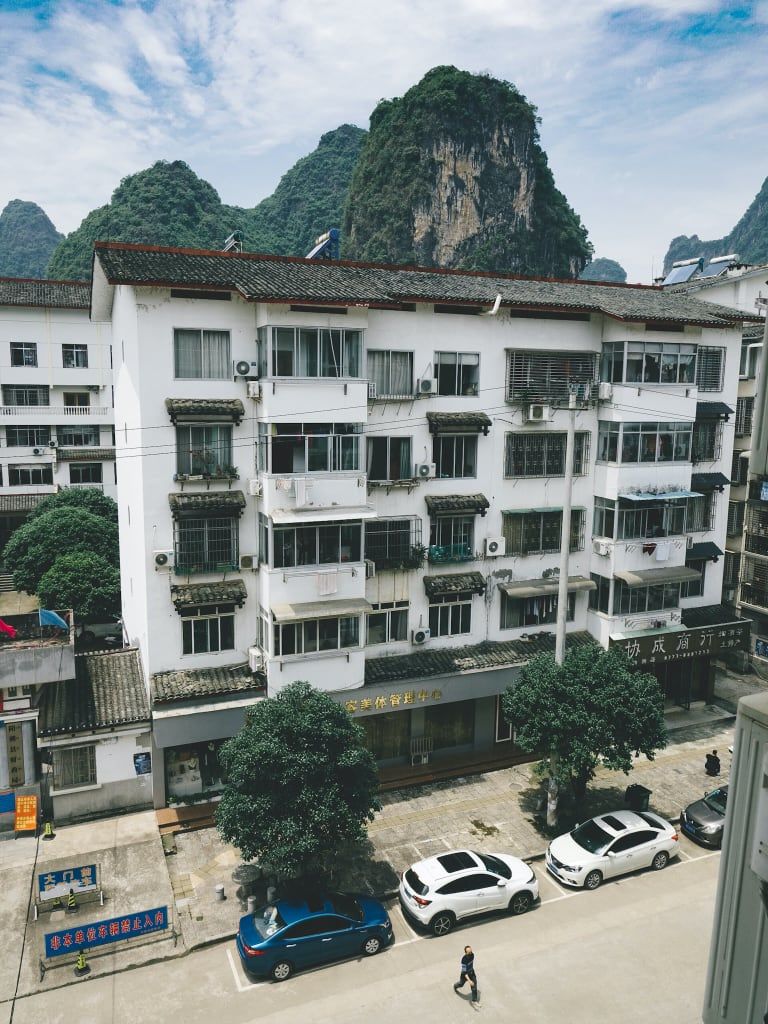 12-40mm
I didn't really use this one at all. Maybe it's because the focal length is similar to what I was seeing with my own eyes the whole week, so I didn't find anything inspiring with it.
40-150mm
This was by far my most used lens during the week. Looking back, I should not have been surprised. As I mentioned in my 5 goals for 2020 post, one of my goals was to use it more this year. Well, during the quarantine week, that was definitely the case!
Again, it seems kind of obvious now that the best way for me to be creative while not being able to move would be to focus in on smaller details rather than the wide-angle compositions that I'm used to. It was the best way to get a wider variety of shots.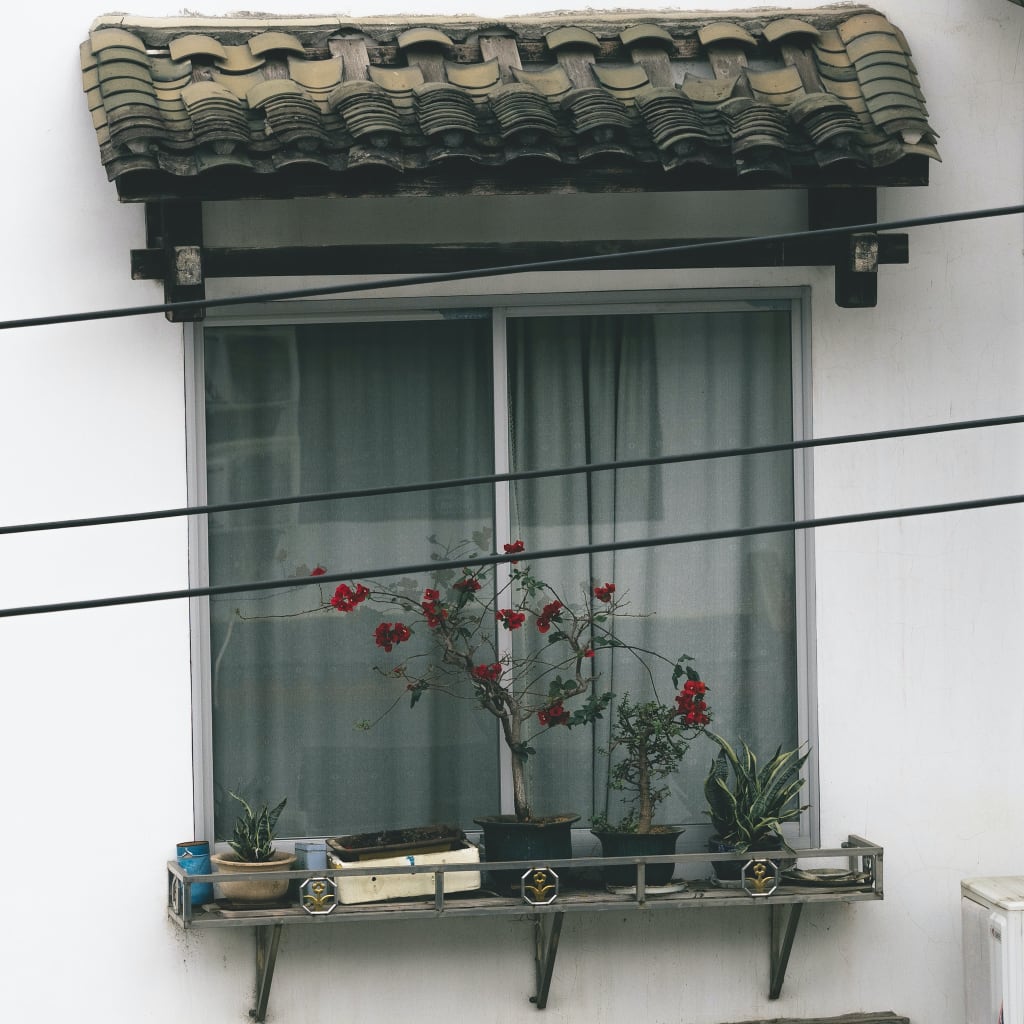 Shoot at Different Times of Day
I didn't get up early to see what the sunrise would have looked like from my vantage point, so my photos are just during the day or night. Looking back, I probably should have at least given it a shot one morning. I know here in Yangshuo there are some great places for sunrise shots, I'll definitely wake up early at some point to see a sunset for myself.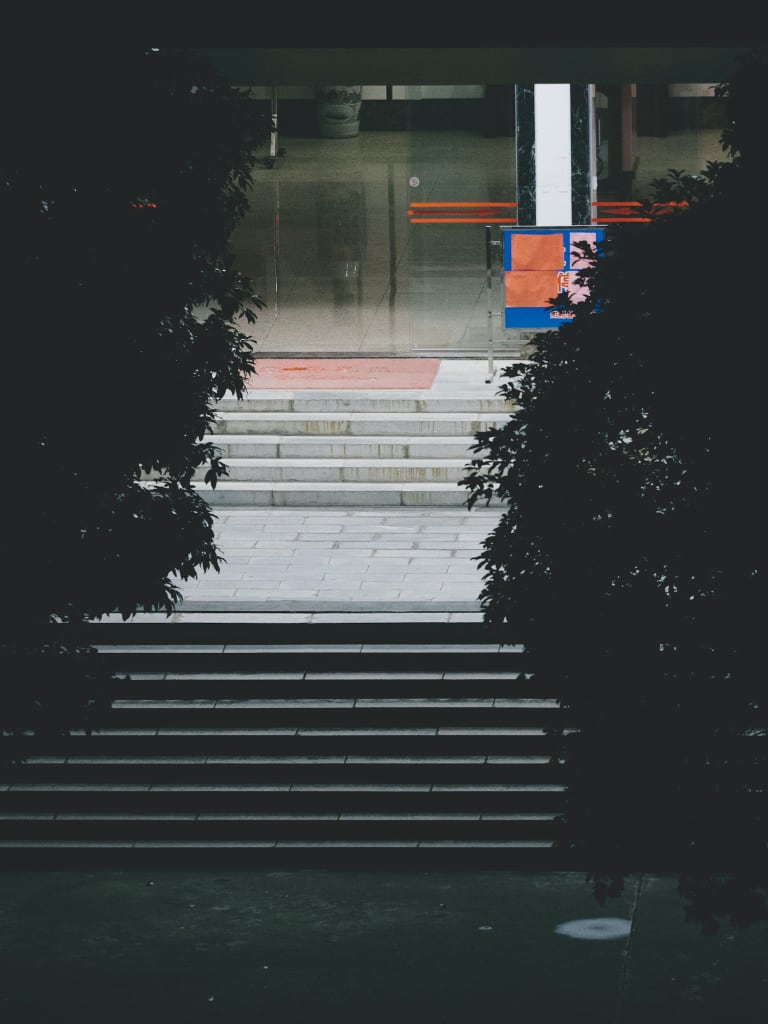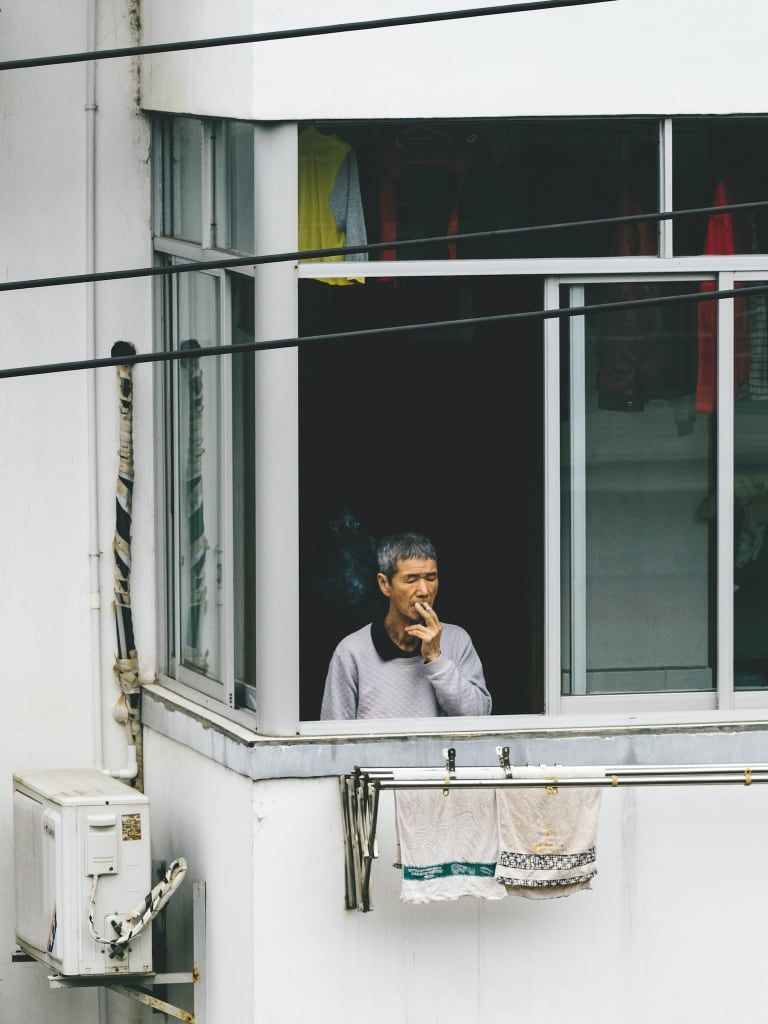 Shoot From Different Vantage Points
I am lucky that the window in my room opens fully, so I was able to stick my body out and look for interesting vantage points.
A lot of the shots were just typical shots from the window, but for some, I leaned way out, looking up and down, or side to side.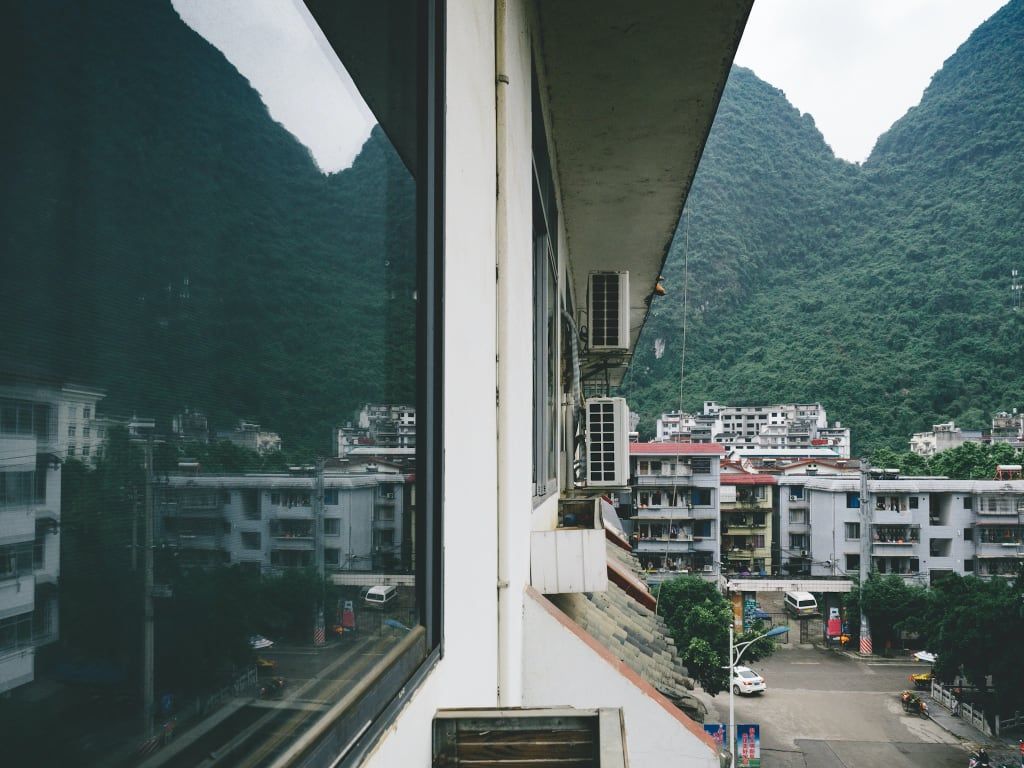 Unfortunately, on the right side of my window, two large air conditioning units are blocking most of the view. I stuck my camera way out and just tried some random shots down the street that way, but didn't really capture anything noteworthy.
For this shot looking down, I just lucked out. I can't see straight down from my window as it's blocked by a small overhang. For fun one afternoon I reached out as far as I could, pointed my camera down, and turned my flip screen so I could see what was down there. It just happened that there was a pretty cool scene below, so I snapped a few shots.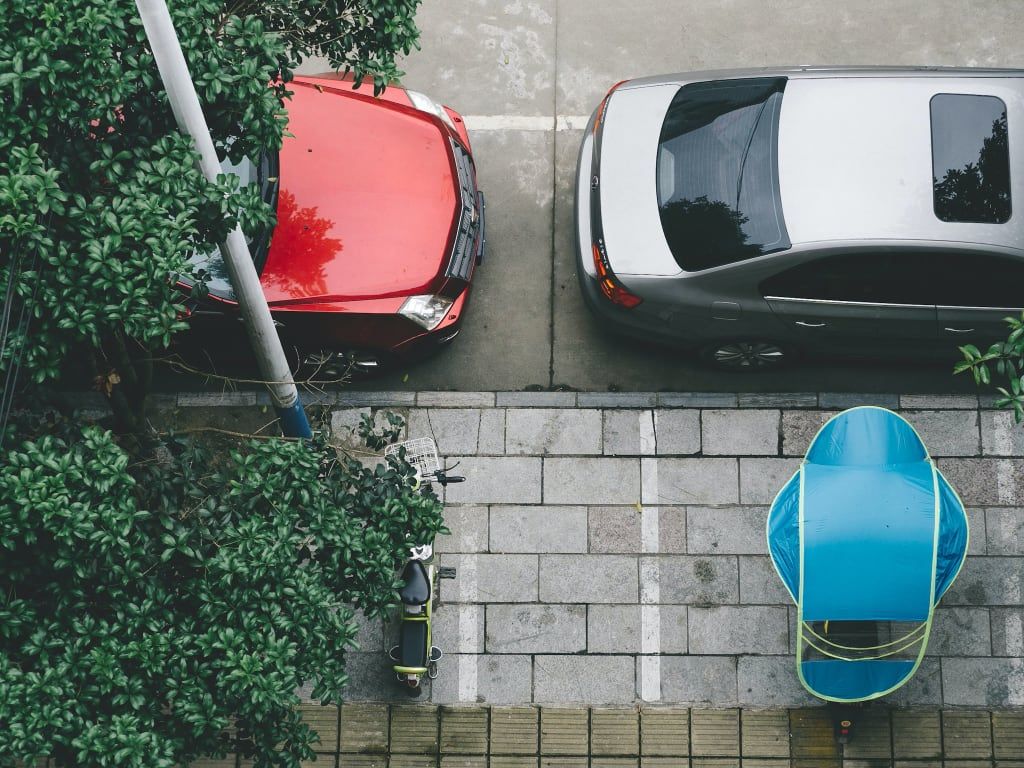 Shoot Different Weather Conditions
I was really hoping for a nice variety of weather during my week. But it turned out that it pretty much was the same cloudy weather every day.
On Saturday afternoon there was finally some sun and blue skies, which was a nice break. I didn't get lucky with a big rainstorm, and though it did kind of sprinkle once or twice during the day, the only time it really rained down was in the middle of the night one time. And I decided against getting out of bed to check it out.
Shoot Some Long Exposures
Another from my 2020 goals blog post (I promise that's the last time I'll say that!), though this one didn't go as planned. I thought maybe I could get some light streak photos with the mountains in the background. But no, there is just not enough traffic outside. Every once in a while a car or motorcycle would go by, but nothing enough to make a dramatic photo, as you can plainly see below 🙂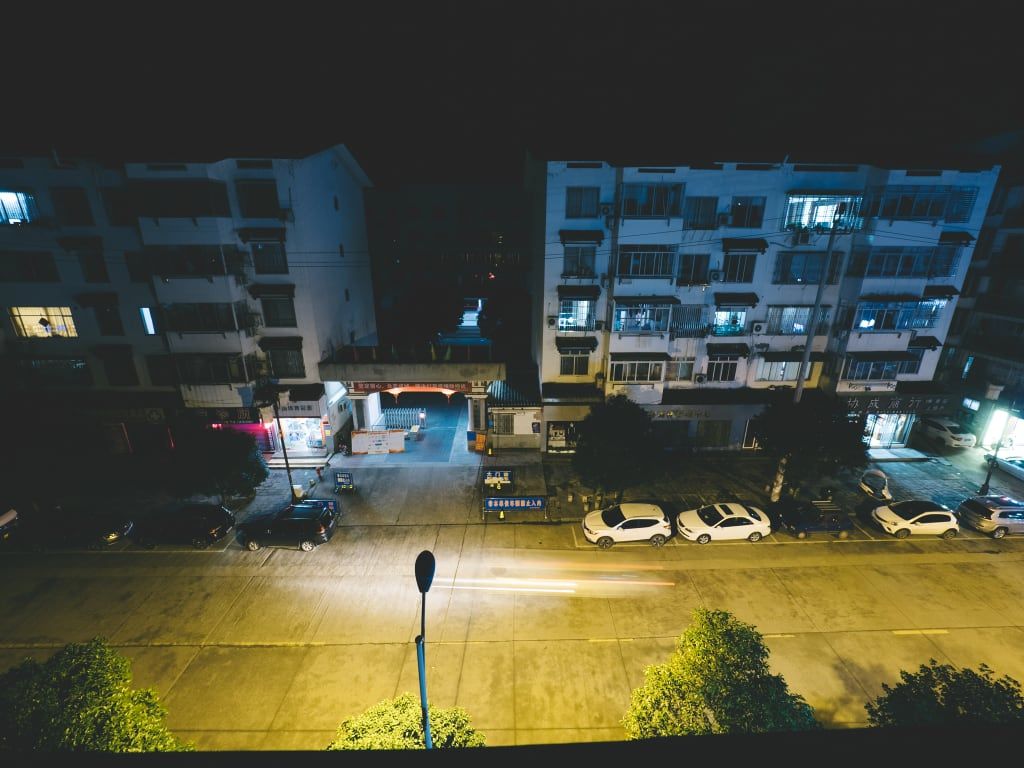 So instead I thought I'd use a long exposure to just show some of the mountains in the background at night set behind the buildings across from me. Again, nothing too dramatic.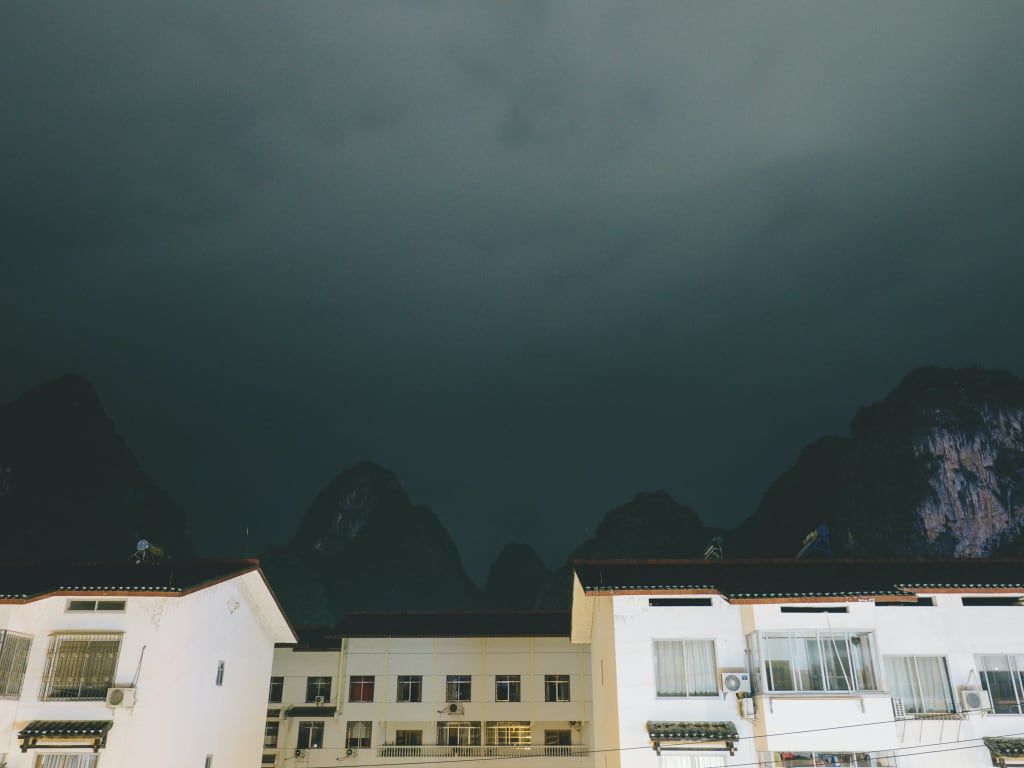 Conclusion
It was a very fast seven days, as I said, I was shocked at how quickly the time went by. I wish I had taken more time to take more photos, but I'm ok with what I ended up with.
The most pleasant surprise was that I actually used my 40-150mm quite a bit! That doesn't mean that I used it enough to say that I've accomplished my goal for the year, but it's a good start.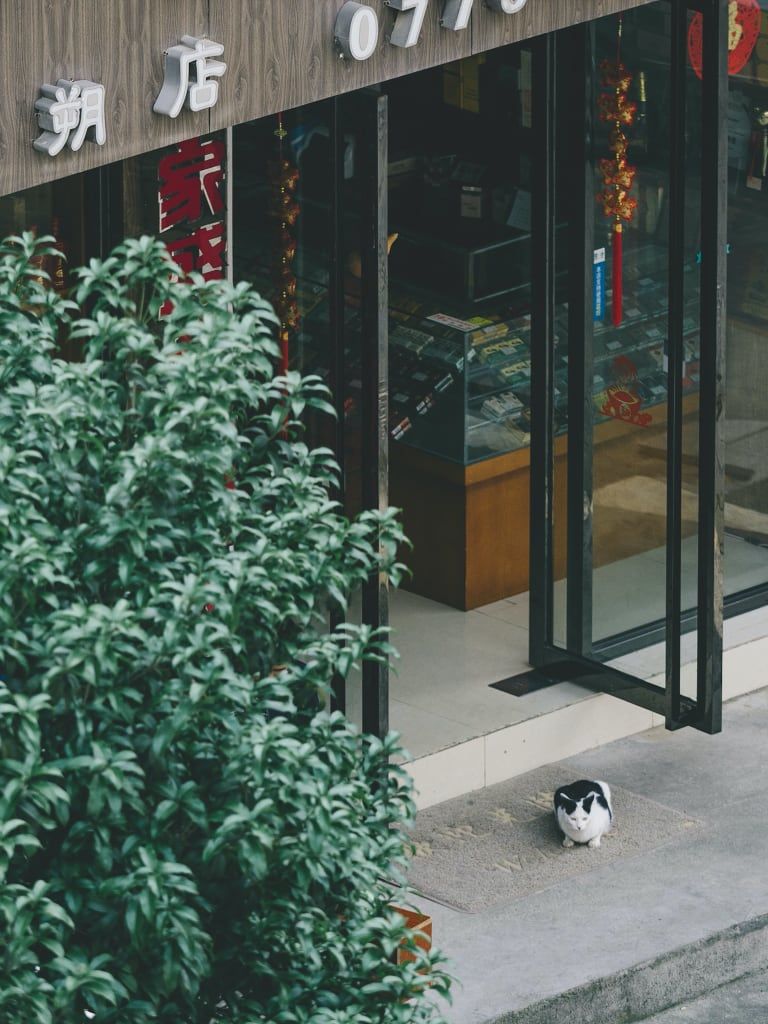 I still have eight more weeks to look out this window, though thankfully I will no longer be doing it all day, every day! I will follow up later with some thoughts about Yangshuo after I've had a chance to explore.
Have you ever been to Yangshuo? If you have any suggestions on where I should go, please let me know in the comments! And please remember to follow my Yangshuo journey on Instagram!