Boy Behind A Waterfall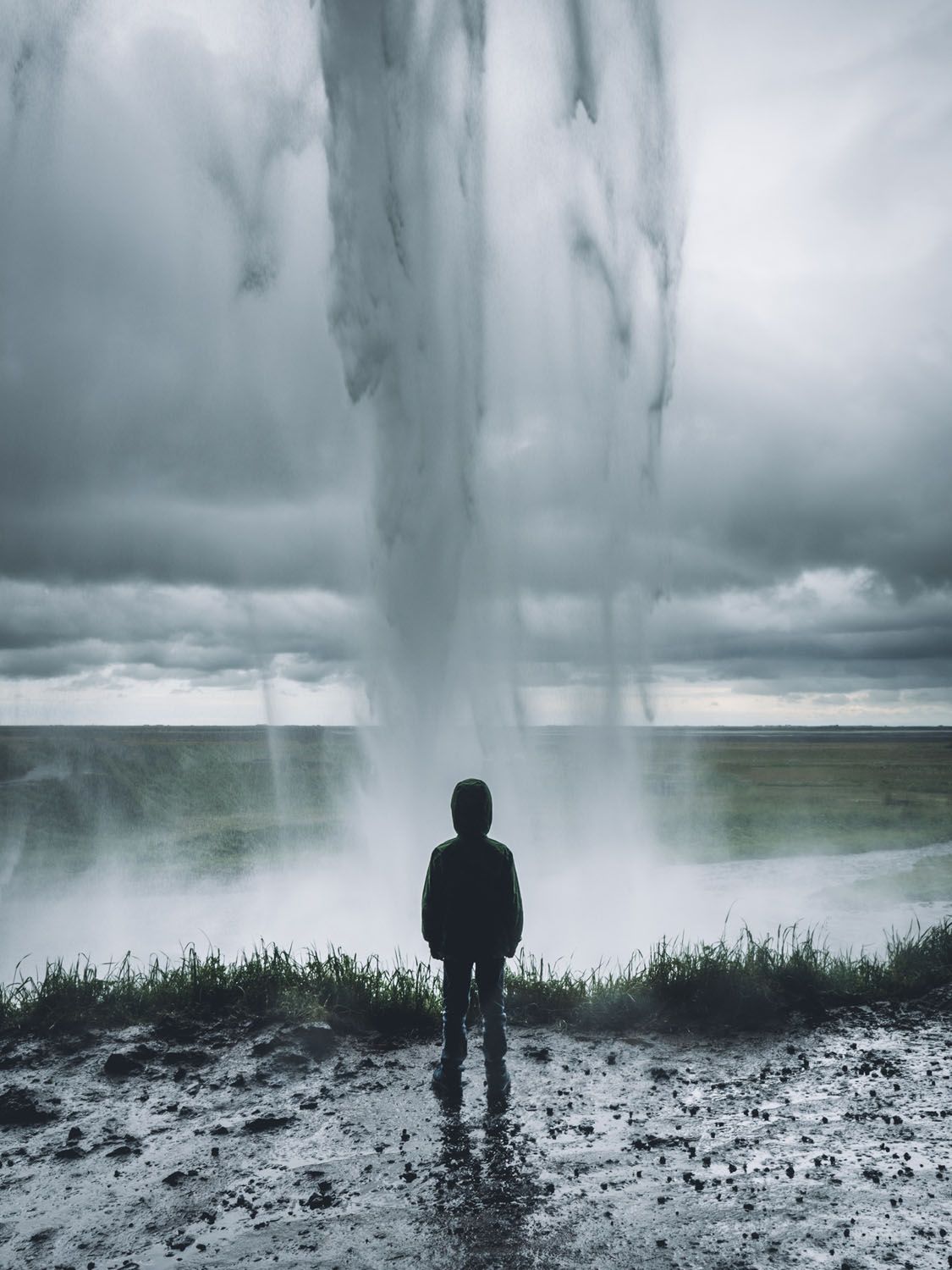 I took this photo in July of 2016, on the second day of my trip to Iceland.  It is at the Seljalandsfoss waterfall near Iceland's South coast and is one of the island's main tourist attractions.
It's one of my favourite photos from that fantastic trip.  Though it's partially one of those lucky 'in the right place at the right time' photos, when I saw the scene in front of me, I still had to be ready to react, so it wasn't all luck.
It was taken with my Olympus OM-D EM-5 Mark II camera and my new (at the time) M.Zuiko Digital ED 7-14mm PRO lens, which over the years has become my favourite lens.
Before the Iceland trip, I went on a lens shopping spree, thinking that I might as well buy as much equipment as I can since it would probably be my only time there.  At the time I wasn't sure if I was doing the right thing, but by the end of the trip I had no regrets for any of my purchases 🙂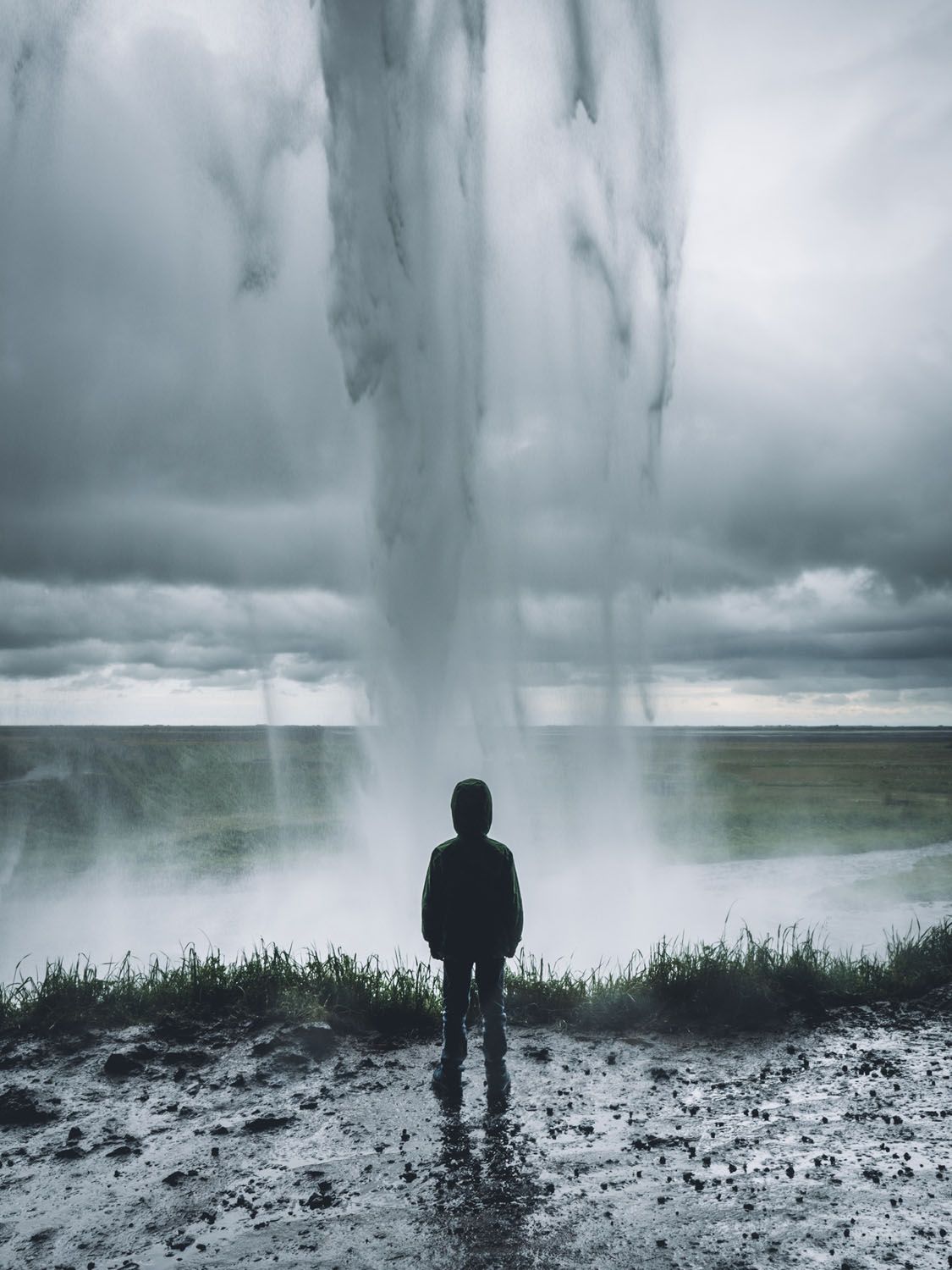 As for the photo itself, at that particular waterfall, you kind of form a line, waiting for each person to take their pictures and then move on.  I had gotten the waterfall shots that I wanted and was starting to walk away and leave the area.  But before I left the area, I noticed a boy standing there.
I don't know if the boy was purposely posing or not.  You can see from the photo of me that was taken while I took my photo, that there was another person there, but I'm not sure if he was photographing the child too or not, he was kind of off to the side.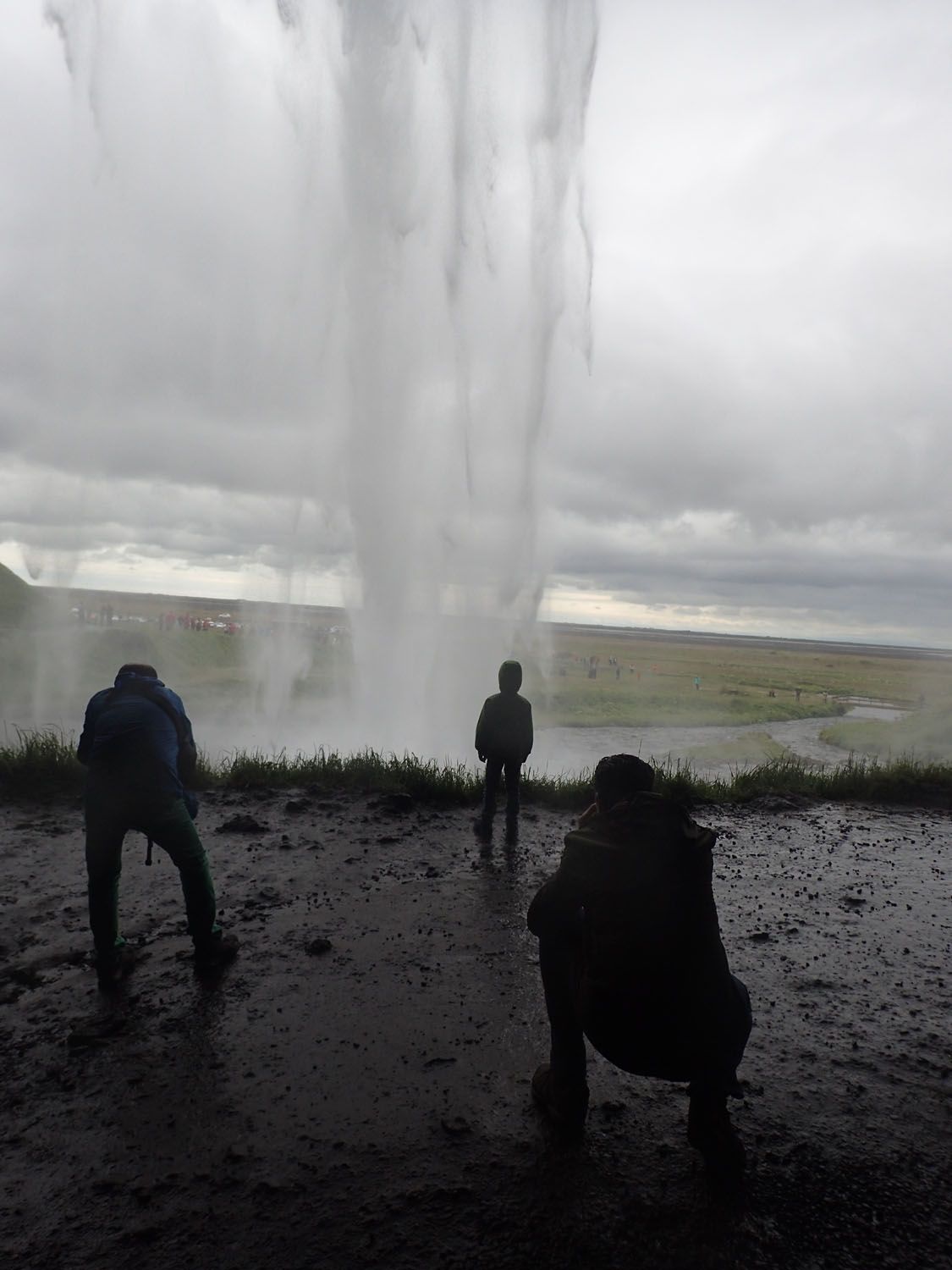 In any case, the boy grabbed my attention right away, so I quickly knelt to take a couple of photos.  I didn't have any time to try to frame perfectly or adjust camera settings. I can see from my photo library that I took two photos, one portrait image and one landscape image, nine seconds later.
There is not really too much to the image, just that the silhouette of the boy was ideally positioned.  In terms of editing, bringing down the exposure helped make the clouds look more dramatic.  I like how they kind of continue out into the distance as far as you can see.  I also removed the people and cars from the background as they were too distracting. You can see the original photo below.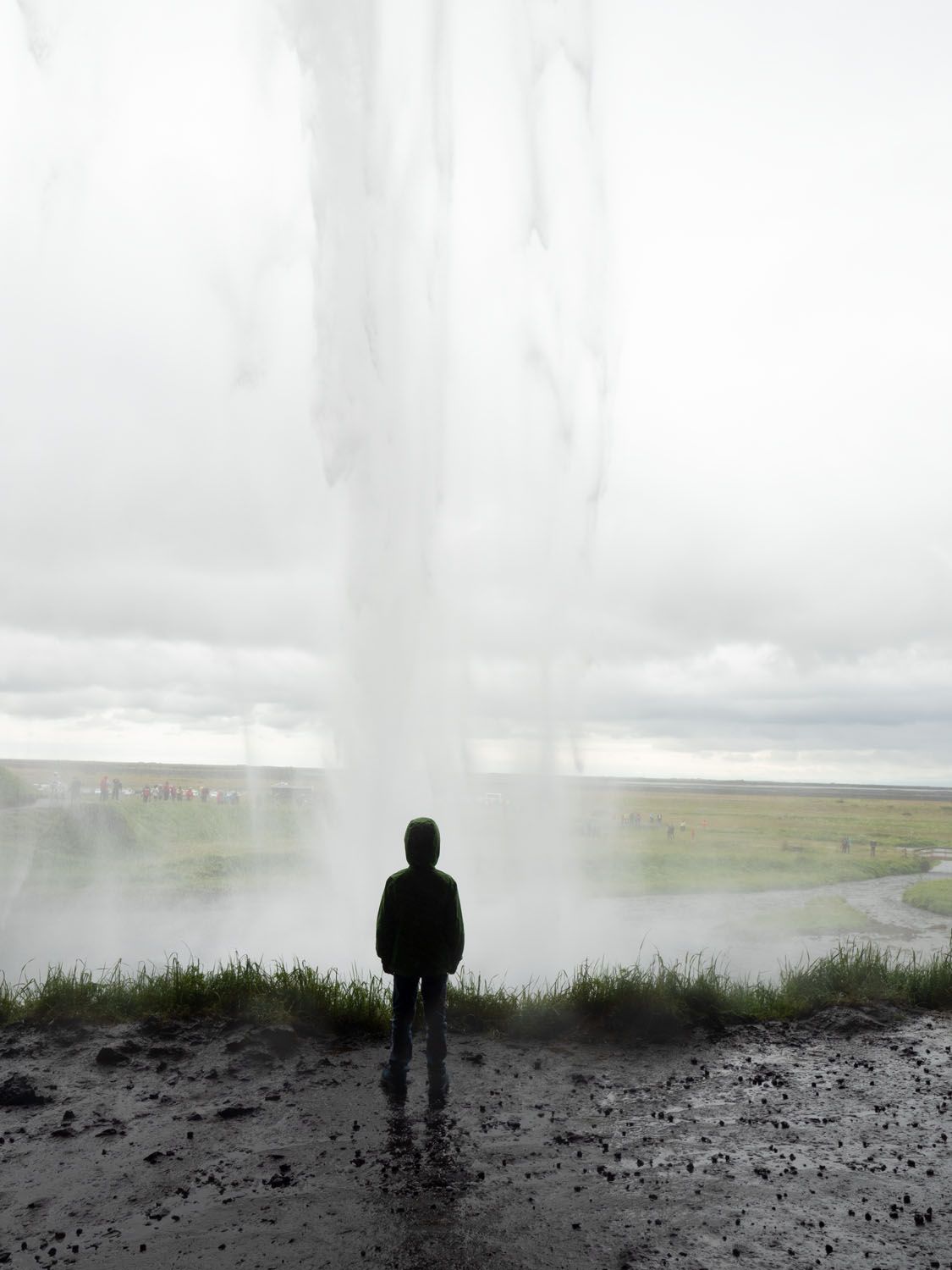 As I mentioned, I also took a landscape format photo, but you can see below it's not nearly as good as the portrait format one, which isolates the boy and the height of the waterfall.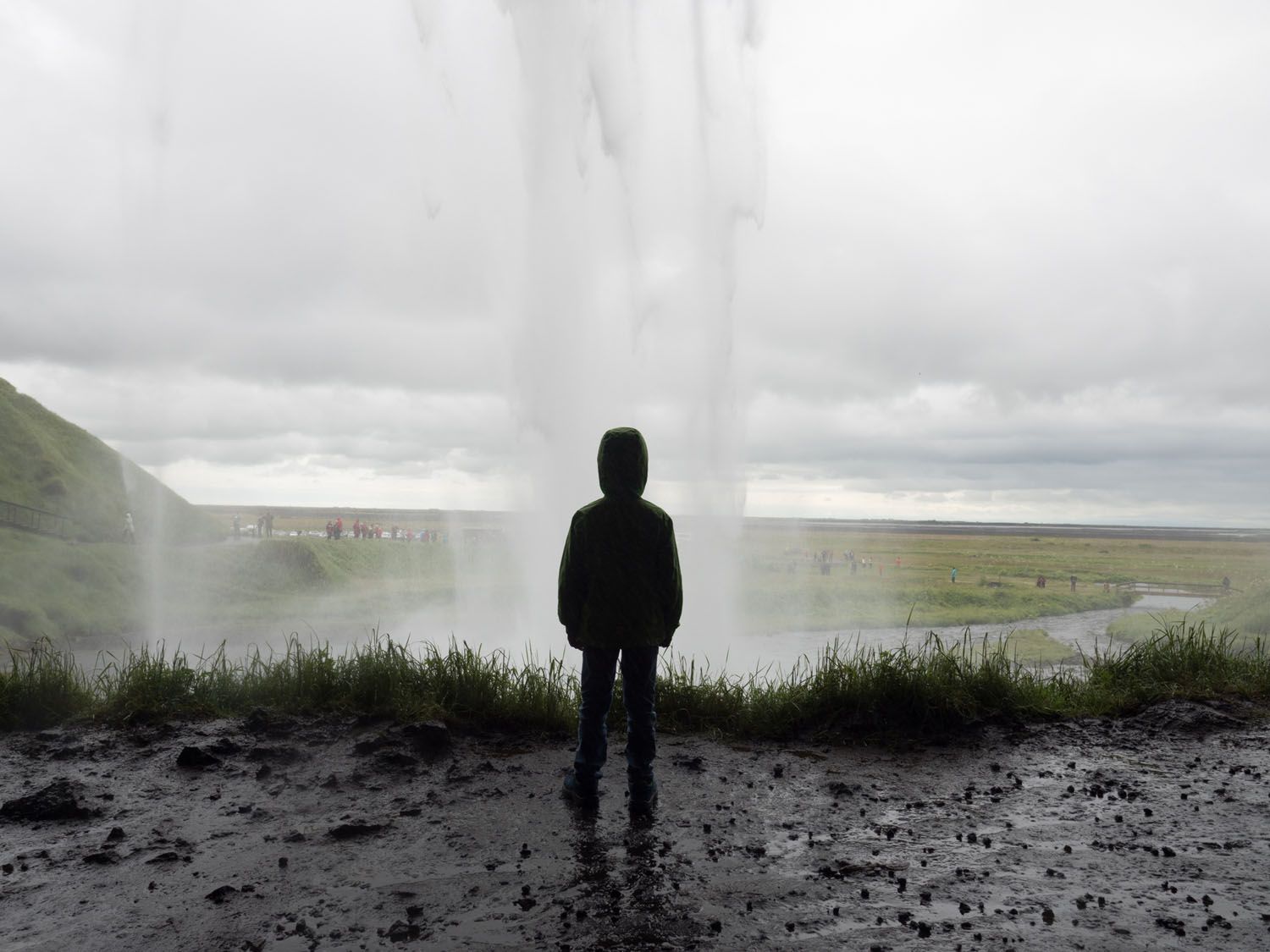 When travelling and doing photography, one of my main tips is to always have your camera ready to shoot.  You never know what photo opportunities may present themselves.  In this case, I was kind of already ready, since I had just taken photos of the waterfall itself.   But when I thought I was done shooting, I didn't turn my camera off and put it away, I still kept it ready.  I'm glad I did, as I'm thrilled with the photo I ended up getting.
Iceland is one of my favourite places I've visited, it's unlike anywhere else I've been in the world so far. If you haven't been, it should definitely be high up on your list. Make sure to have a look at my Iceland blog post for lots more photography and information from my trip.